It's all Greek to me
Convegni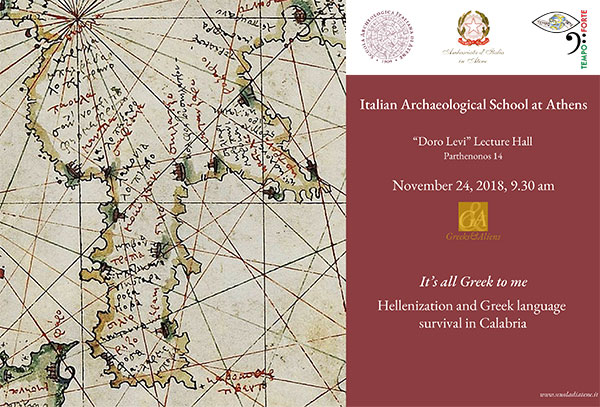 Data:
24 Novembre 2018
10:00
Luogo: Scuola Archeologica Italiana di Atene
Greeks&Aliens
It's all Greek to me
Hellenization and Greek language survival in Calabria
9.30
Opening
Prof. Emanuele Papi
Dr. Barbara Carè
10.00
Dr. Ioanna Manolessou, Academy of Athens - Prof. Nikolaos Pantelidis, University of Athens
Speaking Greek in Southern Italy: historical, geographical and documentary aspects.
10.45
Dr. Sara Bini, Italian Ministry of Cultural Heritage
The Medieval Archaeological Map for the Grecanica Area. New perspectives between research and preservation
11.15
Coffee break
11.45
Dr. Maria Olimpia Squillaci, Smithsonian Institution Fellow
When Greek meets romance: a morphosyntactic analysis of language contact in Aspromonte.
12.15
Dr. Christina Petropoulou, Social Anthropologist
Περιθωριοποίηση, επανεκτίμηση, "αναβίωση": η πορεία των ελληνικών της Καλαβρίας (γκρέκο) χθες και σήμερα.
Discussion and Concluding remarks
Email
roula.kourousia@scuoladiatene.it